Owners of commercial fishing vessels have had to register their vessels with an abstract of title from the earliest days of the industry. One must be physically and mentally strong to work in commercial fishing. As a fisherman, you must be well-versed in boats, the sea, and the law.
An abstract of title is required whenever a commercial fishing vessel is purchased for business purposes. The boat's previous owners and encumbrances like mortgages or liens are listed here. If you need help navigating what may seem like a complex legal procedure, our lawyers are here to help.
There should be a record of the boat's ownership and any encumbrances, such as a mortgage or lien, in this document. Although the procedure seems complicated, we will guide you through it. This article will cover the basics of abstracts of titles for commercial fishing boats.
What an Abstract Title is
The vessel's abstract of title serves as proof of ownership. Completing this form is obligatory when selling or transferring ownership of a boat. In most cases, you will receive the abstract of the title from the previous owner or their title insurance company.
If you buy a boat, vehicle, or home, you have the legal right to maintain specific standards of care for it. For instance, you cannot sell it without first reporting problems with the title ("encumbrances"). It's possible the previous owner had a lien on the property or declared bankruptcy, which would result in encumbrances being placed on the title.
To help you decide whether or not to buy a property with any pre-existing liens, abstracts of title list all of those liens in plain text. Also, after you've done your due diligence and decided to buy, an abstract of the title will be needed for your lender to issue financing.
Why You Should Have an Abstract For Your Vessel 
Titles are legal documents that establish ownership. It is common practice for boat titles to be documented via a Certificate of Title. The abstract is a carbon duplicate, or electronic facsimile, of the original text.
This document serves as evidence of ownership and a legal record that the state can use to resolve any ownership disputes. By looking at the abstract, you can find out exactly when and where the yacht was bought, as well as who the legal owner is.
Whether you acquired a boat at auction, for instance, and the previous owner still owes money, you may find out if there were any liens on the vessel by obtaining a copy of the property's abstract. If there is a lien on your boat, you should clear it up before selling it or putting it out on the water since it might impair your ability to do so.
What to Do if There's a Problem With Your Title
This party's name should hint at what you should expect to learn: the fundamentals of fixing your title. A clean title is essential whether you're in the market for a boat or have already bought one. By doing so, you may be sure that no one else will ever be able to claim the ship.
Vessels may be divided into two categories based on their ownership records: documented and undocumented. Unlike undocumented boats, which use primary forms known as endorsements and assignments, recognized vessels' titles include many pages of information.
A recorded title is preferable in a legal dispute, although either way is acceptable. Don't stress about it if this is something that worries you; updating the documentation for your yacht is a simple process. You'll be the only one who can access the details of your title, protecting it against identity theft and other forms of fraud.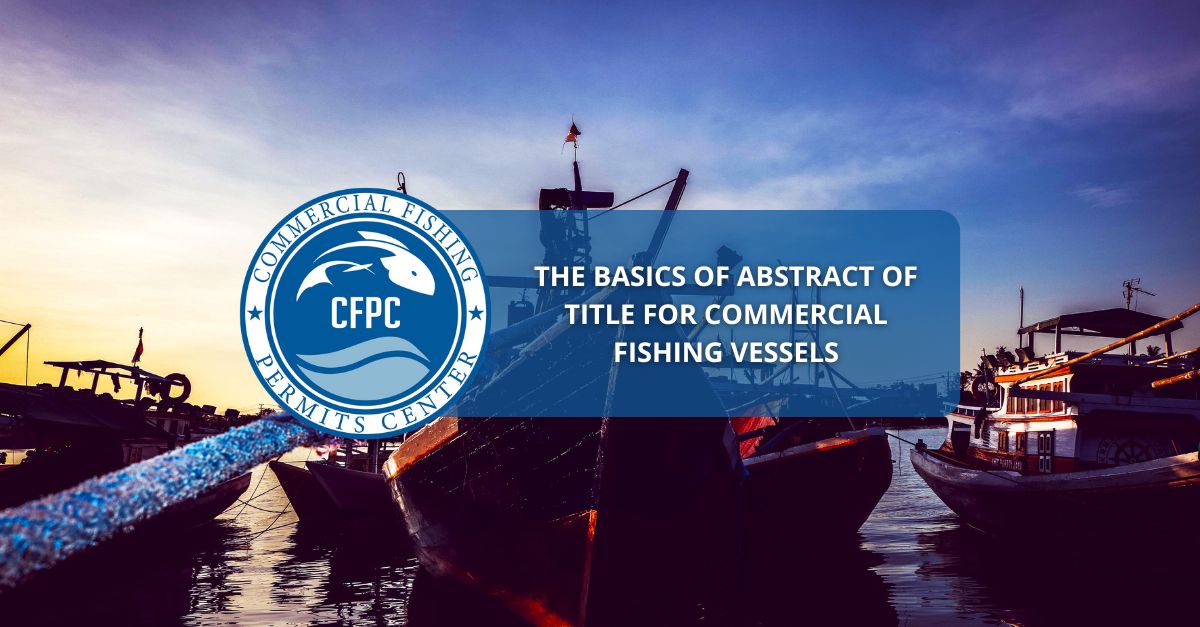 What Information Is Included In an Abstract 
If you're a commercial fisherman, you'll need an abstract of the title for your boat. Commercial fishing vessels have many legal consequences, so it's essential to know exactly what's included in an abstract of title and what an abstract does and does not include.
Vessel description (make, length, beam, engine type, and other physical characteristics)

Name and address of the current owner(s)

Name and address of previous owners (recorded in chronological order)

Date of the most recent sale

The purchase price or assessed value, if not sold
An abstract does not contain information about who owns the vessel or who owns it next. In other words, an abstract does not tell you who the next buyer will be, only that there is no one currently between you and whoever that might be.
Let us help you get started with your vessel's abstract of title paperwork. We handle all aspects of the process and can have your boat's abstract ready in a week or less. The Commercial Fishing Permits Center has been helping commercial vessels obtain all their permits for years and knows exactly what you need to do to get started. Contact us through our site today for more information.